[Own website]
Protein-Protein Interaction Laboratory
Leader of the group
Members of the group
Activity
Research areas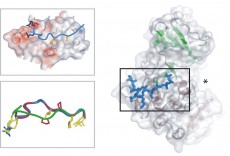 Dokkoló peptidek kötődése MAP kinázhoz
Dokkoló kölcsönhatások és szelektív fehérjehálózatok
Mivel MAP-kinázok központi jelátviteli enzimek, kölcsönhatásaik más fehérje partnerekkel szükségszerűen sokrétű. Aktivitásuk a velük kölcsönhatásba lépő egyéb kinázok és foszfatázok közreműködésével változik, míg információfeldolgozás szempontjából egyfajta kimenetként szubsztrátfehérjék (pl. transzkripciós faktoroknak, a citoszkeleton, transzport vagy éppen a sejtciklus fontos fehérjéinek) foszforilációját idézik elő. Ebben a projektben azt próbáljuk felderíteni, hogy a MAP-kinázok interakciós partnereiből származó ún. dokkoló peptidek (általában 10-15 aminosav hosszú laza konszenzust tartalmazó fragmensek) milyen szelektivitási profillal kötődnek a humán MAP-kináz enzimcsalád különböző tagjaihoz. Ez az információ segítséget nyújthat szelektív MAP-kináz inhibitorok fejlesz-téséhez, illetve olyan biológiai eszközök elő-állításához, amelyekkel az egyes MAP-kináz aktivitásmintázatokat képesek leszünk in vivo tanulmányozni.
The molecular logic of cellular signalling
It is an intriguing problem in cell biology how one can make up highly specific signaling networks by using promiscuous components. Recently, it has been discovered that protein kinases use docking interactions and scaffold proteins to build up selective routes for intracellular signal flow. Earlier we have determined the structure of several protein-peptide complexes in which a yeast mitogen-activated protein kinase (MAPK) is bound to docking peptides or to a fragment of a classical scaffold protein. These structures demonstrate how these interactions are used to achieve selectivity without the involvement of promiscuous kinase active sites. The organisation of MAPK modules is conserved from yeast to human: these novel protein-protein interactions can also be extended to human MAPKs. One day these studies might serve as the foundation for a more selective approach to modulate MAPK activity in signaling related diseases.
Collaborations
Home side
International
Wendell A. Lim
(University of California, USA)
Tóth Attila
(TU Dresden, Németország)
Selected publications
Reményi, A., Good, M. C. & Lim, W. A.

Docking interactions in protein kinase and phosphatase networks. (2006)

Curr Opin Struct Biol 16, 676-85.

Bhattacharyya, R. P., Reményi, A., Yeh, B. J. & Lim, W. A.

Domains, motifs, and scaffolds: the role of modular interactions in the evolution and wiring of cell signaling circuits. (2006)

Annu Rev Biochem 75, 655-80.

Bhattacharyya, R. P., Reményi, A., Good, M. C., Bashor, C. J., Falick, A. M. & Lim, W. A.

The Ste5 scaffold allosterically modulates signaling output of the yeast mating pathway. (2006)

Science 311, 822-6.

Reményi, A., Good, M. C., Bhattacharyya, R. P. & Lim, W. A.

The role of docking interactions in mediating signaling input, output, and discrimination in the yeast MAPK network. (2005)

Mol Cell 20, 951-62.

Reményi, A., Scholer, H. R. & Wilmanns, M.

Combinatorial control of gene expression. (2004)

Nat Struct Mol Biol 11, 812-5.