Motor proteins: structural biology
Members of the group
Activity
Research areas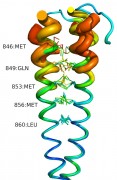 The flexible coiled-coil structure of the S2 domain of myosin.
Cargo binding of myosins
Mechanisms of cargo binding of intracellular myosin motors
Coiled-coils and single alpha helical motifs
A motorfehérjék "farok régióját" felépítő coiled-coil szuperhélix szerkezetét és funkcióit tanulmányozzuk biofizikai és krisztallográfiai módszerekkel. A miozin VI korábban szintén coiled-coil szerkezetűnek jósolt doménjéról kimutattuk, hogy egyszálú, sókötésekkel stabilizált magányos α-hélix szerkezetű. Bioinformatikai módszerekkel azt találtuk, hogy a magányos α-hélix számos más fehérjében is megtalálható szerkezeti motívum. Meglepően nagy stabilitásukat in vitro és in silico módszerekkel vizsgáljuk.
Regulation of conventional myosins
A miozin II motorfehérjék aktivitását a könnyű láncok Ca2+-kötése és/vagy reverzibilis foszforilációja szabályozza, amelynek a szerkezeti alapjait különböző eredetű, valamint kiméra miozinok segítségével vizsgáljuk. A "kikapcsolt" állapot nagyfelbontású szerkezetét nem ismerjük, ezért olyan rekombináns HMM (nehéz meromiozin) konstrukciókat próbálunk előállítani, amelyek kristályosítási célra alkalmasak. A filamentumképzést nem-izom miozin II motoroknál a C-terminális coiled-coil régióhoz kötődő, metasztatikus tumorokban megemelkedett expressziós szintet mutató S100A4 Ca2+-kötő fehérje is befolyásolja. A komplex szerkezetét és a szabályozásban betöltött szerepét vizsgáljuk.
The dynein light chain
Structure-function studies and binding partners of an eukaryotic hub protein
Collaborations
Home side
Kardos József,
Kovács Mihály,
Málnási Csizmadia András,
Pál Gábor
(ELTE Biokémiai Tanszék)
Perczel András,
Gáspári Zoltán
(ELTE, Kémiai Intézet)
Tompa Péter
(MTA Enzimológiai Intézet)
Tóth Gábor
(MBK, Gödöllő)
Vellai Tibor
(ELTE, Genetikai Tanszék)
International
Andrew G. Szent-Györgyi
(Brandeis University, USA)
Carolyn Cohen
(Brandeis University, USA)
Kazuhiro Kohama
(Gunma Univeristy, Maebashi, Japan)
Ignacio Rodriguez-Crespo
(Complutense University of Madrid, Spain)
Michel Espinoza-Fonseca
(University of Minnesota, Minneapolis, USA)
Supporters
OTKA (K61784, NI48466, TS049812)
Selected publications
Brown, J. H., Yang, Y., Reshetnikova, L., Gourinath, S., Süveges, D., Kardos, J., Hóbor, F., Reutzel, R., Nyitray, L. & Cohen, C.

An unstable head-rod junction may promote folding into the compact off-state conformation of regulated myosins. (2008)

J Mol Biol 375, 1434-43.

Hódi, Z., Németh, A. L., Radnai, L., Hetényi, C., Schlett, K., Bodor, A., Perczel, A. & Nyitray, L.

Alternatively spliced exon B of myosin Va is essential for binding the tail-associated light chain shared by dynein. (2006)

Biochemistry 45, 12582-95.

Debreczeni, J. E., Farkas, L., Harmat, V., Hetényi, C., Hajdú, I., Závodszky, P., Kohama, K. & Nyitray, L.

Structural evidence for non-canonical binding of Ca2+ to a canonical EF-hand of a conventional myosin. (2005)

J Biol Chem 280, 41458-64.

Li, Y., Brown, J. H., Reshetnikova, L., Blazsek, A., Farkas, L., Nyitray, L. & Cohen, C.

Visualization of an unstable coiled coil from the scallop myosin rod. (2003)

Nature 424, 341-5.